Xbox Series X/S - Specs/Pricing/Release Date
By TG Darkis
76 views
Xbox One Series X Is Getting Tasty
Now, last month my colleague here at the News Team released an article on the Xbox Series X and we now have some juicy bits of information to drop on top of it. Now as we all know, the battle of supremacy in the consoles has been raging for what feels like an eternity and we now have the specs for the Series X and his little brother hiding behind him.
So lets get right into it with the current information we can find...
CPU: Eight-core 3.8GHz (3.6GHz with SMT) custom AMD 7nm
GPU: 12 teraflops 1.825GHz (locked)
RAM: 16GB GDDR6
Frame rate: Up to 120 fps
Resolution: Up to 8K
Optical: HD Blu-Ray disk drive
Storage: 1TB NVMe SSD
Now for me this doesn't mean too much but essentially what this all comes down to is a massive increase in the speed games are loaded in, as well as being able to load 2 games simultaneously and load from one to the other without shutting the first off like we do at the moment. As well as the quicker loading, the Series X is aimed at being designed to have a focus at playing games smoother and faster in higher detail at up to 120 frames per second bringing it closer to a gaming PC.
In our previous article we mentioned the good stuff of the new Xbox running the same Ray tracing tech that was brought to Modern Warfare and some other more recent releases, as well as auto low latency mode and dynamic latency input. Once again a lot of words i struggle to grasp with but its all boiling down to the direction Microsoft are going. 4k gaming at 120 fps with all this background goodness bringing you more immersion than ever. Now the Series X will be compatible with 8k however with the focus so heavily on the 60fps/120fps smooth 4k gaming its sort of taking a back seat at the moment. More of a spare round in the chamber to be fired at a later date, kind of deal.
At the moment of writing this article it does not appear that the Series X is intentionally pushing towards any kind of a strong VR bias but who knows what the future of gaming ever truly holds? Microsoft's chief marketing officer did say "we do not have any plans specific to Xbox" regarding questions on virtual reality or even a combination with mixed reality which begs the question why didn't he say Microsoft instead of Xbox?
The new controller is very similar to the current controllers with 3 tweaks, a share button has been added for...well...sharing....and the directional pad has had its influence taken from the current elite controller's as well as the pad being foreword compatible. Which essentially mean the controller will work with the Xbox and PC. However good news for those forking out for the elite and elite 2, they will be compatible with the new console so no need to be making any new investments on that side.
Speaking of investments, there is a little brother in the works to the X, the Xbox Series S will be a slightly shorter version with less power and no disk drive and will be unlikely to consistently hit the 4k threshold for gaming. The reasoning of this seemed a little off until we look into Microsoft's new service called Project X cloud will we check into in a moment.
Now, it has been confirmed that the Series X will not be getting any generational exclusive games for its first year of release, instead you will be getting 2 versions of the same game via a new service called 'Smart Delivery' as long as the games development company have set it up as well. Essentially if you were to buy a game on the Xbox One and then upgrade to the Series X you would still have the game...no issue there, but the game installed on the Series X would be a Series X specified version designed to run on the more powerful console and utilize it as intended. Think of it as a free way of remastering 360 titles to the XB1. Also the Series X will be backwards compatible 3 generations depending on the game.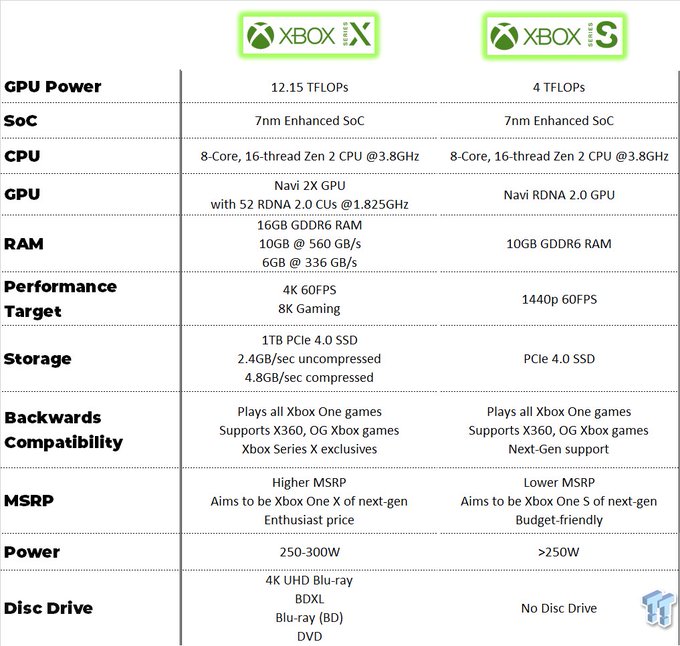 (above pulled from digital trends)
Now, above is the comparison between the Series X and the Series S that set to release around the same time as each other and the Series S is looking to be aimed more at using the project Xcloud. At the moment, PlayStation have a system up where you can stream play games from the cloud, a service not included in Microsoft's arsenal, apart from a sneaky hint all the way back to the E3 demo in 2018 where it was mentioned that it was being worked on. It was later code named Project Xcloud and appears to be making its way into the Series X and Series S hence the lower powered little brother not getting its disc drive. Now little information on prices and exact ways this will work but its getting a rough idea around the $10-$15 a month mark which isn't too much of a kick in the teeth compared to the game pass live bundle there at the moment, whether all 3 roll into one or Xcloud is a separate entity remains to be seen.
Currently the Xbox Series X is due to release on November10th at $500 with the Series S Dropping the same day for $300. Pre orders begin this month on September the 22nd
What do you think of the new specs & Microsofts new plans? leave a comment below with your thoughts and feelings on the Series X and it's little brother
---