Battlefield V - Grind
By TG SmokeyB
283 views
Battlefield V Update
Grind
There has been a new update for BFV in the form of a new game mode, called Grind.
Grind is based on the Conquest game mode but it is focused on 3 objectives in a corridor, with little flanking opportunity's. It's 32v32 and it can, sorry... WILL get hectic. That many people fighting in such a small space is crazy, but it's a really fast and fun game mode. 
Currently, it's adopted to 5 maps, including Devastation, Narvik, Rotterdam & Twisted Steel.  With the game mode out, it also contributes to getting the new Tides of War weapons. The only downside is it's here for a limited time only.
I personally think DICE have done rather well with this game mode. Check it out for yourselves!
Also in another note, DICE has brought back duo's for Firestorm. Which is a brilliant idea!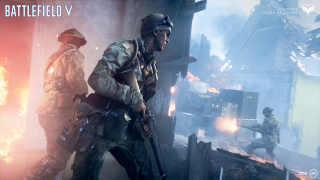 Have you tried Grind yet? Do you hate it or love it?
Let us know in the comments section below!
---